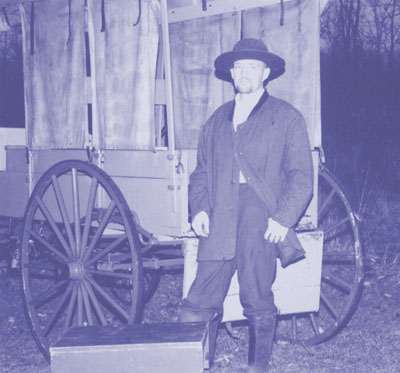 My involvement with living history began about 15 years ago and has brought me through a number of periods. Everything from the French and Indian War to the 2nd World War but the mid-19th century continues to be my passion. As a farm kid from the Midwest my idea of a great vacation was a trip to Gettysburg or "the Valley." so I guess the interest has been there for as long as I can remember.
I began researching original leather items locally and produced items for my own impression, primarily as a result of my tinkering nature. Over time, some of my Ohio pards began asking, "Could you make one of those for me?" I found myself making trips several hundred miles away just to take a look at a particular item, much to my wife's dismay, but possible by her support.
A number of the "old" guys continue to ask, "Can you make...." and so I continue to add to the list of items I research and reproduce. Some of the items I reproduce are from my collection, but many of the reproductions were possible due to the generosity of private collectors or museum curators who have allowed me to "take a look" to which I owe a great debt. It is an ongoing process to be sure for every question you answer it usually raises two more, but I guess that's what keeps you honest. There are no "always" or "nevers," particularly when uncovering the past.
For many years we have served our valued living history customers as well as a number of museums and institutions including:
The National Park Service
Virginia Military Institute
South Mountain Maryland State Park
Pamplin Historical Park and the National Museum of the Civil War Soldier
United States Army Heritage and Education Center
Connecticut Statehouse Museum
South Carolina Relic Room and Museum

Feel free to contact me anytime if you have questions about items I make or just want to shoot the breeze.

Take care.

Tim Welch
L.D. Haning & Co.